by Chris McGreal in Benghazi, Ian Black in Tripoli,
Toby Helm in London, and Kim Willsher in Paris
03/20/2011
Britain, France and US launch wave of attacks from the air
110 Tomahawk missiles fired at key defences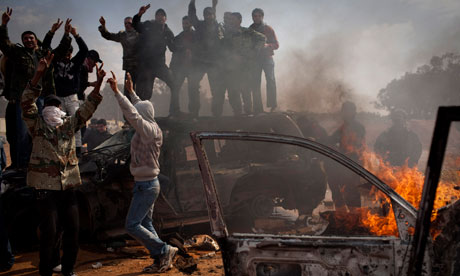 Libyan rebels in the eastern city of Benghazi celebrate fending off an assault by forces loyal to Colonel Gaddafi. Photograph: Anja Niedringhaus/AP
Western allies unleashed a ferocious series of air and missile strikes against Muammar Gaddafi's military as they mounted Operation Odyssey Dawn, the biggest assault on an Arab regime since the invasion of Iraq in 2003.
A Pentagon spokesman said that more than 110 Tomahawk cruise missiles had been fired from US and British ships and submarines in the Mediterranean, striking more than 20 integrated air-defence systems and other military facilities on the mainland. A US national security official later said Gaddafi's air defences had been "severely disabled".
The spokesman said the attacks were just the start of what was likely to be a multi-phase military operation designed to enforce the will of the United Nations and "deny the Libyan regime the ability to use force against its own people".
The strikes took place less than 48 hours after the UN had authorised the use of "all necessary force" to protect civilians from Gaddafi's brutal attempts to regain control of his country. The patience of the international community finally ran out as Gaddafi's troops pounded the rebel stronghold of Benghazi, hours after the Libyan dictator had promised a full ceasefire and invited foreign officials to monitor it.
Powerful explosions heard to the west of the capital were thought to be an attack on a radar station – part of the country's air-defence system. A government spokesman said military and civilian locations had been hit.
Libyan television reported that the air forces of what it called the "crusader enemy" had hit a hospital on the outskirts of Tripoli. Targets in Zuwara and Misrata, Sirte and Benghazi were also hit, it said.
The Jana news agency reported that ambulances were rushing to take casualties to hospitals. But there were no air-raid sirens or overt signs of a country under bombardment. Traffic continued to flow as normal in the streets of Tripoli, with many vehicles flying the green flags of Libya and passengers screaming pro-Gaddafi slogans. A large crowd of Gaddafi supporters waving flags and portraits of the leader gathered outside his house in Tripoli, in an apparent move to discourage foreign air strikes.
US President Barack Obama said: "Make no mistake. Today we are part of a broad coalition. We are answering the calls of a threatened people."